Martindale-Hubbell has awarded Brother Rutter of Rutter Mills their coveted "Judicial Edition" AV Preeminent® Rating – an honor based not only on recommendations of other lawyers, but also JUDGES! If you have never heard of it, it's because this award is rare! It's an honor higher than even Martindale-Hubbell's prestigious AV Preeminent Rating, which is determined only by the opinions of fellow lawyers.
Big congratulations to Brother Rutter for receiving this rare honor based not only on the recommendations of his lawyer peers, but also the respect and recognition of JUDGES!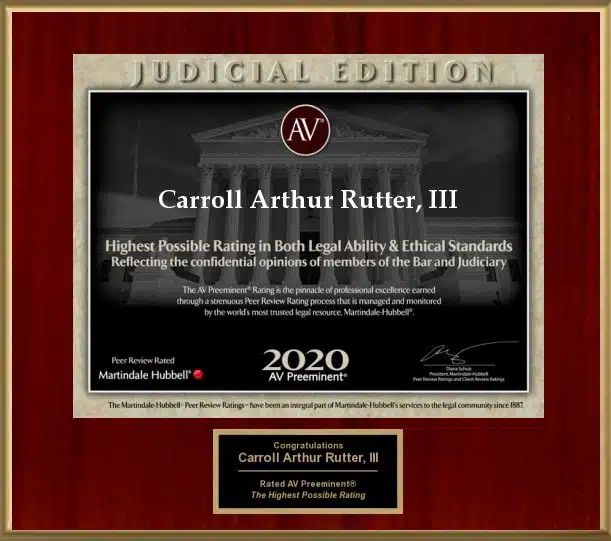 The Judicial AV Preeminent® Rating by Martindale-Hubbell is the highest possible distinction bestowed by the industry's oldest and most prestigious legal ranking organization.
About Martindale-Hubbell
The Martindale-Hubbell peer-review system for attorneys began more than 133 years ago. Now more than 120,000 lawyers in North America are reviewed annually. Unlike other award distinctions, attorneys do not pay for their ratings in the Martindale-Hubbell directory.
Key determinants in the rankings include how long the attorney has practiced law, the results of peer-review surveys, and their reputations in local bar associations. The confidential reporting sources include rated and unrated lawyers (85 percent) and judges (15 percent). Lawyers are rated based on their legal ability and ethical standards. Prior to publishing the award, additional research and personal interviews confirm the appointment.
For referrals from active members of the American Bar Association, a rating with Martindale-Hubbell is a standard precursor. Peer performance reviews serve as a gold standard of professional achievement and credibility. The judicial ratings go one step further as the highest tribute a lawyer can get from a shrewd and particularly impartial audience.
Explanation of Martindale-Hubbell Rating System
Lawyers receive one of three distinctions for the Judicial Edition rating:
CV – This definitive first-level recognizes a lawyer's "above-average" legal ability and "unquestionable" ethics.
BV – This next-level indicates a lawyer's substantial client base, high professional standing, and experience.
AV – The highest distinction reflects the heights of professional excellence, skill, and integrity.
Brother Rutter is pleased to receive the most distinguished AV rating from peers and judges in 2020.
About Brother Rutter
Brother Rutter is a Harvard graduate with a law degree from Richmond's T.C. Williams Law School, where he was top of his class. For the past several decades, Brother has specialized in large and complex cases, from auto and maritime accidents to wrongful deaths and high-profile personal injury lawsuits.
As an active philanthropist, Brother and his wife, Meredith, founded the Rutter Family Art Foundation, which supports local artists in the community. Last year, he received the "Champion for the Arts Award" from the Virginia Beach Cultural Affairs Arts & Humanities Commission and the "Downtowner of the Year Award" from the Downtown Norfolk Council for his charitable contributions.
Other recognitions in addition to the latest Martindale-Hubbell honor include:
The National Trial Lawyers' "Top 100" list
Selected to the Super Lawyers® list six years in a row and counting
US News & World Report's "Best Lawyers" (four consecutive years)
Inside Business Power list (four years and counting)
Brother Rutter believes in making life better for everyone who walks through his doors and in the community where he lives, and he takes that responsibility very seriously. For him to receive this latest distinction is a true testament to his commitment to personal injury law.