Are you looking for something new to do during Spring Break? Hampton Roads offers many family friendly locations and attractions ranging from exciting bounce houses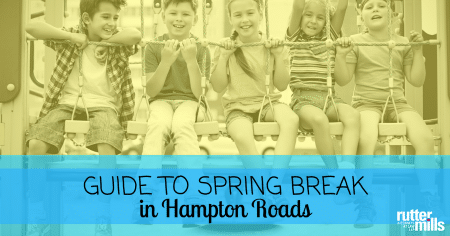 to super educational (but still fun!) museums! There are also engaging events located in the Southside and Peninsula! We've comprised this handy list of family friendly Hampton Roads spots and events for every age. Have fun and remember – Rutter Mills is available 24-7 if you need us. Simply call or text us at 757-622-5000, or click here to email us. 
Virginia Beach:
The Virginia Aquarium & Marine Science Center
Located at 717 General Booth Boulevard, Virginia Beach, VA 23451.
Highlights: The Virginia Aquarium & Marine Science Center hosts over 800,000 gallons of aquariums and live animal habitats focusing on Virginia's diverse and unique marine environment. With more than 300 hands-on exhibits, a nature trail, an aviary, two animal touch pools and a National Geographic 3D Theater. A visit to the Aquarium can be fun and educational. To complete the experience there are two stores and a café.
Cape Henry Lighthouse
Located at 583 Atlantic Avenue, Fort Story, VA 23459.
Highlights: The Cape Henry Lighthouse was built to guide maritime commerce at the mouth of the Chesapeake Bay. It stands near the "First Landing" site where English settlers arrived in 1607 and is one of the oldest surviving lighthouses in the United States!
First Landing State Park
Located at 2500 Shore Drive, Virginia Beach, VA 23451.
Highlights: On April 26, 1607, 100 English settlers landed here and established the first elective government in English America before pushing up the James River to establish Jamestown. The park offers a chance to explore a unique habitat featuring lagoons, large cypress trees and rare plants. More than 19 miles of hiking trails wind through the natural area!
Annual Cherry Blossom Festival
Saturday, April 1, 2017 from 12:30 PM until 4:00 PM. Rain Date: Sunday, April 2, 2017.
Located at 1398 General Booth Boulevard, Virginia Beach, VA 23451.
Highlights: Free and open to the public! Join the Sister Cities of Virginia Beach and Miyazaki, Japan in celebrating spring, peace, and goodwill during the blossom season. Enjoy traditional Japanese music, dance, arts and martial arts demonstrations. Concessions and various cultural vendors will be available.
Toddler Trek
Thursday, April 6, 2017 and Thursday, April 13, 2017 from 11:00 AM until 11:30 AM.
Located at Marsh Pavilion at the Virginia Aquarium & Marine Science Center at 717 General Booth Boulevard, Virginia Beach, Virginia 23451.
Highlights: An outdoor exploration session for early learners and their parents! Featuring an easy 30-minute stroll along the Nature Trail. Discover a new animal, color, or shape through fun outdoor activities. This program meets in the Marsh Pavilion and will take place inside on rainy days.
Click here to learn more.
Kids Safety Day & Easter Egg Hunt
Saturday, April 8, 2017 from 11:00 AM until 2:00 PM.
Located at Landstown Commons Shopping Center at 3334 Princess Anne Road, Virginia Beach, Virginia 23456.
Highlights: Come on out and enjoy Pinwheel Palooza, sponsored by Virginia Beach CASA. This fourth annual Virginia Beach event, Pinwheel Palooza, is to celebrate the Pinwheels for Prevention Campaign. This will be a large family friendly event that will have a ton of activities in which to participate! Activities include: arts and crafts, petting zoo, character appearances, pinwheel planting and a fitness course. Free and open to the public.
Pinwheel Palooza
Saturday, April 8, 2017 from 10:00 AM until 2:00 PM. Rain Date: Sunday, April 9, 2017.
Located at Virginia Beach Municipal Center Courthouse at 2425 Nimmo Parkway, Virginia Beach, VA 23456.
Highlights: Featuring plenty of fun activities for the entire family! Children up to age 10 can hunt for Easter eggs. The Easter Bunny will also make an appearance! Inflatables, live music, VA CHIP Child IDs, Emergency vehicles and the Virginia Beach Fire Department child safety information will be available throughout the day! Free and open to the public.
Hunt Club Farm's Festival
Saturday, April 15, 2017 from 10:00 AM until 4:00 PM and Sunday, April 2, 2017 from 10:00 AM until 5:00 PM.
Located at Hunt Club Farm at 2388 London Bridge Road, Virginia Beach, VA 23456.
Highlights: Take pictures with the Easter bunny, and find some 30,000-plus Easter eggs during the all-day egg hunts! Visit the animals in the petting farm, take a farm-tour hayride and enjoy UNLIMITED use of inflatable amusements, such as the castle bounce & slide, obstacle course, kiddie pillar crawl-through and moonwalk! Additional Easter Weekend activities (not included in general admission): Pony rides, carnival games with great prizes, concessions, candy & caramel apples, face painting and more! Food Concessions, Candy & Caramel Apples, Face Painting & More!!! Photos with Bunnies and Chicks and Ducklings!
Spring Eggstravaganza
Saturday, April 15, 2017 from 12:00 PM until 3:00 PM.
Located at Town Center at One Columbus Center, Virginia Beach, VA 23462.
Highlights: The Easter Bunny Spring Eggstravaganza is a FREE and open to the public event that will be sure to be a fun-filled family afternoon at the Central Park in Town Center of Virginia Beach!
Norfolk:
The Virginia Zoo
Located at 3500 Granby Street, Norfolk, VA 23504.
Highlights: An accredited Association of Zoos and Aquariums facility, the Virginia Zoo exhibits more than 500 animals representing more than 100 different species on 53 beautifully landscaped acres. For more than a century, the Virginia Zoo has demonstrated a commitment to education and conservation, and offered a fun-filled day for visitors of any age.
PixelFest 2.017
Friday, April 7, 2017 through Sunday, April 9, 2017. From 9:00 AM until 2:00 PM.
Located at the Slover Library at 235 E Plume Street, Norfolk, VA 23510.
Highlights: The gaming festival with activities for all ages and skill levels from toddlers on up to professional developers!
3rd Annual Gymkhana: Spring Field Day + Bocce Tournament
Saturday, April 8, 2017 from 11:00 AM until 3:00 PM. Rain Date: Sunday, April 23rd, 2017.
Located at the Hermitage Museum and Gardens at 7637 N Shore Rd, Norfolk, Virginia 23505.
Highlights: Featuring family friendly law games and kid activities! Live music by Midnight Snack. Offering brunch, lunch and drinks with a punch! This is a free event.
"Scope On Ice" Public Skating
Friday, April 14, 2017 from 5:30 PM until 8:30 PM and Saturday, April 15, 2017 from 5:30 PM until 8:30 PM.
Located at the Norfolk Scope Arena at 201 E. Brambleton Avenue, Norfolk, VA 23510.
Highlights: Calling skaters of all ages and skill sets. Lace up your skates to hit the biggest rink in town. Super Hero Skate is on Friday, April 14 and Neon Skate is on Saturday, April 15.
Newport News:
Virginia Living Museum
Located at 524 J. Clyde Morris Boulevard, Newport News, VA 23601.
Highlights: View endangered red wolves. Get up close to a loggerhead turtle and jellyfish. See fish with no eyes and frogs that change colors. Touch live spider crabs and fossilized dinosaur tracks. It's all at the Virginia Living Museum, Newport News, where living exhibits depict Virginia's natural heritage from the mountains to the sea. Experience a steamy cypress swamp and cool mountain cove. Explore the underwater world of the Chesapeake Bay and the underground realm of a limestone cave. See flying squirrels, stingrays and other creatures of the night. Touch famous Bay creatures. Kids especially enjoy the Touch Tank with its sea stars and horseshoe crabs, role-playing being an animal keeper and vet in Wild and Well and exploring the Nature Playground. Enjoy hands-on activities. See spectacular views of the sun from the observatory and travel the universe in the state-of-the-art digital planetarium. Outdoors, stroll the boardwalk to view coastal birds, beavers, otters, coyotes, endangered red wolves and other animals in naturalized habitats. Butterfly Garden, Virginia Garden and landscape plantings display one of the most extensive displays of native plants in Virginia. Learn how to live, build and garden green in the Conservation Garden and Green Living House.
The Mariners' Museum and Park
Located at 100 Museum Drive, Newport News, VA 23606.
Highlights: Created in 1930 by Museum founder Archer Huntington, The Mariners' Museum Park is the largest privately maintained park in America. The Park is 550 acres of privately maintained, naturally wooded property that offers visitors a quiet and serene place to walk, run, or picnic. The famed Lions Bridge is a stunning Park landmark with gorgeous views of the James River, noted for its four lion statues created by the Museum founder's wife, Anna Hyatt Huntington. The 167-acre Lake Maury is an ideal location for experiencing wildlife and escaping the crowds. A seasonal boat dock allows for weekend rentals of jon boats, paddle-boats, canoes, and kayaks. Following the shoreline of Lake Maury is the five-mile Noland Trail.
Hampton:
Carousel Park & Hampton Carousel
Located at 602 Settlers Landing Road, Hampton, VA 23669.
Highlights:  Built in 1920, the Hampton Carousel is completely restored to its original beauty and housed in its own weather-protected pavilion on the city's downtown waterfront. It is one of only 170 antique wooden merry-go-rounds still existing in the U.S.
Hampton History Museum
Located at 120 Old Hampton Lane, Hampton, VA 23669.
Highlights: The Hampton History Museum serves to increase the awareness and understanding of the history of Hampton by maintaining an educational and research center for the collection, exhibition, interpretation, preservation and promotion of the vast historic resources of the city.
Hampton Heritage Day
Saturday, April 15, 2017 from 10:00 AM until 5:00 PM.
Located at the intersection of Queens Way and Wine Street in Hampton, Virginia 23669.
Highlights: Enjoy traditional music, dance and storytelling and other performances and presentations, hands-on family activities, cultural displays and demonstrations, glassblowing, blacksmithing, wool spinning, food, heritage arts & crafts, and more to honor those who came before us. Held in conjunction with the International Children's Festival- Hampton and hosted by the Hampton History Museum, this family friendly event is free and open to the public.
Chesapeake:
Chesapeake Bounce House
Located at 4300 Portsmouth Boulevard, Chesapeake, VA 23321.
Highlights: Open Jump at the Bounce House allows your child to play on exciting inflatables and plenty of places to run. A special place for smaller kids with inflatables and ride-ons is available for toddlers.
Cloud9
Located at 825 Greenbrier Cir P, Chesapeake, VA 23320.
Highlights: If your kids (6 and under) are ready explore Cloud9 without bigger kids around, check-out KidJump! Every Day (9am-10am) is exclusively for parents and children!
Williamsburg:
Colonial Williamsburg
Located at 1 Visitor Center Drive, Williamsburg, VA 23185.
Highlights: Discover Colonial Williamsburg and become a citizen of the Revolutionary City. Engage with the local community and experience firsthand the daily struggles of wartime. Explore our art museums, unleash your kids' inner colonists, tee off a game of golf, or relax and unwind at the Spa. Stay at one of the official Colonial Williamsburg hotels, with a variety of opportunities to shop and dine, and you'll never want to leave.
Ripley's Believe It or Not! Museum and 4D Theater
Located at 1735 Richmond Road, Williamsburg, VA 23185.
Highlights: The Ripley's Believe It or Not! Museum and 4D Theater in Williamsburg offers over 350 exhibits ranging from an 8′ tall transformer, a 100lb Millennium Falcon made entirely from used car parts to a genuine shrunken head and a 2 headed cow. In addition, there are multiple interactive exhibits.  Inside the Odditorium, enjoy the Virginia's on Impossible Laser Race – race against the clock as you navigate a web of lasers.  After touring the museum, be sure to check out the 4D theater! Guest experience 3D films on our 50′ HD screen with wind, water, snow, scent and a host of other sensory experiences.
Jamestown & Yorktown:
Historic Jamestowne
Located at 1368 Colonial Parkway, Jamestown, VA 23081.
Highlights: Walk in the footsteps of Captain John Smith, Pocahontas, and the colonists who in 1607 settled England's first permanent colony in North America. Experience the place where Pocahontas and John Rolfe married in 1614 and the first representative assembly in America met in 1619. Take an archaeology walking tour and join a Park Ranger for a walk through New Towne established in the 1620s. View the 17th-century brick church tower and reconstructed Memorial Church along with statutes and monuments commemorating events at Virginia's first capital. Soak up the island's environment observing bald eagles, blue herons and white-tailed deer. After departing the Visitor Center, drive the five-mile Island Loop. Waysides explain how the early Jamestown settlers survived in this environment. Don't miss a stop at the Glasshouse of 1608 to observe artisans practicing glassmaking, an early industry attempted at Jamestown.
Jamestown Settlement and the American Revolution Museum
The Jamestown Settlement is located at 2110 Jamestown Road, Route 31 S., Williamsburg, 23185 and the American Revolution Museum is located at 200 Water Street, Route 1020, Yorktown, 23690.
Highlights: Take a journey of historic proportions at Jamestown Settlement and the American Revolution Museum at Yorktown – two living-history museums that explore the story of America's beginnings, from the founding of America's first permanent English colony in 1607 to the Revolution and the establishment of a new nation almost two centuries later. Discover artifact-filled exhibition galleries and take part in activities in outdoor living-history areas to learn about life in the 17th and 18th centuries.
*We're updating this list all the time, so check back often!