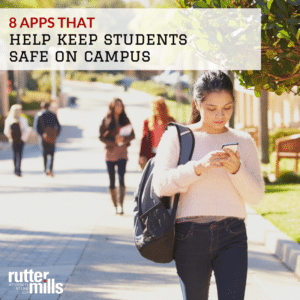 Summer is in full swing, but the first day of the fall semester is quickly approaching for college students. If you or a loved-one are headed to campus soon, personal safety is likely on your mind. That's why we have updated our original list of mobile apps designed to help keep people safe. From alleviating dangerous situations to preventing drunk driving, these apps utilize the power of mobile technology for personal protection. (Please note, the information in this article is intended to help make you aware of these apps so you can research them further and determine if you would like to use them.) If you find yourself in a car accident, please do not hesitate to call the Car Accident Lawyers of Rutter Mills.
Personal Safety Apps
bSafe – The bSafe app allows friends you assign as "guardians" to track your trip home via GPS. One press of a button on bSafe will simultaneously sound an alarm and send a text message alert to your friends that you are in danger. The app will also begin recording video of the incident. Video, voice, location, and timestamps of the incident are kept in bSafe's servers if users ever need to provide information to the police. It also provides a "Fake Call" feature. If you anticipate needing to make a quick exit, the app lets you set a time when you'll receive a fake call. Free from Apple and Android.
Companion – This app sends a live map of your walk home to the loved ones you assign to act as "companions." Companions don't even have to download the app; they receive a link to a GPS-enabled map via text that will allow them to see where you are on your trip home. If the app detects that something is amiss during your walk home (for example, if you suddenly begin running), the app will ask you if you are ok and will alert your friends 10 seconds later if you don't respond.
Send Help – This app is described as an "all-purpose panic button for whenever you're in a risky situation." With a simple push of a button, Send Help sends a link with your GPS location to your loved ones. The app can also post your location to Facebook and Twitter. Send Help is available from Apple for iOS.
Car Accident Apps
SoSmart – This app uses sensors already built into your phone to automatically detect when a car accident has occurred. Once you download the app, you simply add the contact details of the people you wish to be notified if you get into an accident. When the app detects a significant and abrupt change in your traveling speed, the app alerts your emergency contacts immediately and sends them the location of the incident. This allows them to call 911 for you. It can be very helpful if you are driving in a secluded area where it may take minutes or hours for someone to find you.
Additionally, Consumer Reports Magazine has reviewed two apps that are helpful if you are ever in a car accident: Help I Crashed My Car (for Android and iPhone) and Car Accident Report (for iPhone). With these apps your can input emergency contact names and numbers, personal data, your car information, and other helpful information for when you are in need of help. Each app has a setting to allow you to dial 911 easily, and it will track you along the way for your safety. It also includes an accident report feature so you can record details about other vehicles and drivers. The apps' best features are:
Car Accident Report – This feature allows the user to send information through their linked email account, such as photos, notes, recordings, etc. Available for free from Apple only.
Help I Crashed My Car – Similar to the Car Accident Report feature, this app uses the camera on the phone to take photos and stores the data in the app. You can also find useful links to local vehicle rental companies and auto repair shops near by. Available for free from Apple and Android.
Keep in mind, if you find yourself injured in a car accident, the first thing you should do is ensure you and all parties involved seek medical attention if needed. After that, if you feel like you were injured by no fault of your own, be sure to call us. Rutter Mills is a serious personal injury law firm with the reputation to achieve the outcome you deserve. We are available 24 hours a day, so don't hesitate to call or text us at 757-622-5000 if you are ever in need of help. 
Drunk Driving Prevention Apps
ENDUI – Downloading this app can help users help identify their BAC – Blood Alcohol Concentration level by providing the number of drinks they have consumed and the time period it occured in. Through the math and science behind it, the app can provide the user with their BAC level. The app also provides activities the user can do to help prove they are able to drive or function after their drinks. There is also a 911 push to call feature allowing users to easily contact help if and when needed. Available for free from Apple and Android.
DrinkTracker (iOS) and AlcoDroid (Android) – These apps help you track your alcohol consumption and estimate your blood alcohol content. DrinkTracker will also estimate when your blood alcohol content is likely to decrease to a target level.
Curb – This app comes in handy whenyou are trying to find a safe ride home after a night of drinking. Curb only connects users with professional, fully-insured drivers nearby. Available for free from Apple and Android.