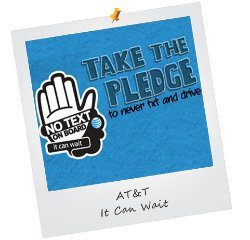 AT&T, one of the nation's largest cellular providers has launched it's "It Can Wait" Campaign aimed at getting young drivers to pledge to not text and drive.  A recent AT&T conducted survey found that 75% of teens say it is common for their friends to text while driving.  75% is a remarkably huge number and can spell serious danger. No one knows this better than the Car Accident Lawyers of Rutter Mills.
Distracted driving is a huge danger for all of us, but for teen drivers who are still adjusting to the ways of the road and learning basic driving skills texting and driving is a distraction that they can ill afford.   In 2010, 3092 people were killed in crashes involving a distracted driver, with an estimated 416,000 seriously injured.
Parents, please talk to your teens about the dangers of distracted driving, and set an example by never using your cell phone while operating your vehicle. Conversely, if you or a loved one are the victim of a texting while driving accident, please don't hesitate to contact the Car Accident Lawyers at Rutter Mills.