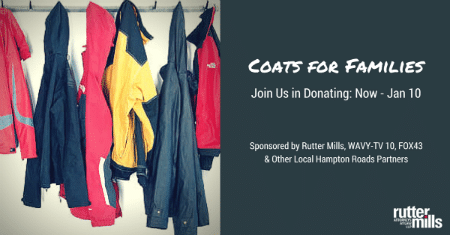 It was a warm December in Hampton Roads, but the New Year is here and temperatures are dropping. January and February are the coldest months in our area, making this time of year particularly harsh for local families in need. That's why, for the second year, we at Rutter Mills are happy to sponsor Coats for Families along with WAVY-TV 10, FOX43, and other local community partners. The Coats for Families project provides new and gently used coats to children and adults in Hampton Roads who would otherwise go without coats to keep warm this winter. This project is near and dear to our hearts as we continue our ongoing effort to give back to the community in which we live and work.
Do you have coats your children have outgrown? Is there a coat in your closet you haven't worn in ages? Maybe Aunt Ethel recently gifted you a coat that just isn't your style? Coats for Families is the perfect way to put those coats to great use. If you'd like to donate a new or gently used coat to Coats for Families, please check out the details below and feel free to drop off a coat at any of the following donation locations.
Drop-Off Dates: Now through January 10, 2016
Distribution Date: Coats will be distributed to families on January 16, 2016 at the following local YMCAs: Newport News YWCA, Mt. Trashmore Family YMCA, Greenbrier Family YMCA, Effingham Street Family YMCA, The Y on Granby.
Drop-Off Locations: Please see the following list of businesses accepting donations. For a list of each drop-off location, including addresses, please scroll beyond the video below.
Albano Cleaners locations
Ames Cleaners Express locations
Local YMCAs
1st Advantage Federal Credit Union Branches
Priority Honda Hampton & Chesapeake
Hall Honda Virginia Beach & Elizabeth City
Checkered Flag Honda
Casey Honda
Williamsburg Honda
Also, please click here or on the video below to check out a clip from The Hampton Roads Show of our Managing Partner, Brother Rutter, discussing why this project is so important for the Hampton Roads community and to the team at Rutter Mills. This is a clip of our participation in last year's Coats for Families project.
New and gently used coats can be donated at these locations through January 10, 2016:
Albano Cleaners Locations
Orchard Square Shopping Center
1400 Kempsville Rd.
Chesapeake. VA 23320
1249 Cedar Road
Chesapeake, VA 23322
1464 Mount Pleasant Rd. Unit 20
Chesapeake, VA 23322
234 West 22nd Street (Main location)
Norfolk, VA 23517
11000 West Little Creek Road
Norfolk, VA 23505
6132 East Sewells Point Road
Norfolk, VA 23513
6163 East Virginia Beach Boulevard
Norfolk, VA 23504
1414 Colley Avenue
Norfolk, VA 23517
4006 Victory Boulevard Unit K
Portsmouth, VA 23701
3134 Tyre Neck Road
Portsmouth, VA 23703
1340 North Great Neck Road, Suite 1272
Virginia Beach, VA 23451
4308-A Holland Road Unit B
Virginia Beach, VA 23452
3053 Shore Drive
Virginia Beach, VA 23451
3010 East Virginia Beach Boulevard
Virginia Beach, VA 23452
1517 Pleasure House Road
Virginia Beach, VA 23455
2094 Princess Anne Road
Virginia Beach, VA 23456
401 Laskin Road
Virginia Beach, VA 23451
600 North Birdneck Road
Virginia Beach, VA 23451
Kemps River Shopping Center
5316 Kemps River Dr.
Virginia Beach, VA 23464
4540 Princess Anne Road #115
Virginia Beach, VA 23462
2476 Nimmo Parkway #114
Virginia Beach, VA 23456
4511 Haygood Road #35
Virginia Beach, VA 23455
1615 General Booth Boulevard
Virginia Beach, VA 23454
7386 Harbour Towne Pkway Ste B27
Suffolk, VA 23435
Ames Cleaners Express Locations
900 LaSalle Ave
Hampton, VA 23669
10 Towne Centre Way
Hampton, VA 23666
554 E. Mercury Blvd
Hampton, VA 23663
YMCAs
Peninsula YWCA
2702 Orcutt Avenue
Newport News, VA 23607
Newport News Family YMCA
7827 Warwick Blvd
Newport News, VA 23607
YMCA Corporate Office
920 Corporate Lane
Chesapeake, VA 23320
The First Tee of Hampton Roads
YMCA South Hampton Roads
2400 Tournament Dr
Virginia Beach, VA 23456
Blocker Norfolk Family YMCA
312 W. Bute Street
Norfolk, VA 23510
Eastern Shore Family YMCA
26164 Lankford Highway
Onley, VA 23418
Effingham Street Family YMCA 
1013 Effingham Street
Portsmouth, VA 23704
Great Bridge/Hickory Family YMCA
633 South Battlefield Boulevard
Chesapeake, VA 23322
Greenbrier Family YMCA
1033 Greenbrier Parkway
Chesapeake, VA 23320
Greenbrier North YMCA
2100 Old Greenbrier Road
Chesapeake, VA 23320
Hilltop Family YMCA 
Hilltop East Shopping Center
1536 Laskin Road
Virginia Beach, VA 23451
Indian River Family YMCA
5660 Indian River Rd
Virginia Beach, VA 23464
Princess Anne Family YMCA
2121 Landstown Road
Virginia Beach, VA 23456
James L. Camp Jr. Family YMCA
300 Crescent Drive
Franklin, VA 23851
Mt. Trashmore Family YMCA 
4441 South Boulevard
Virginia Beach, VA 23452
Outer Banks Family YMCA 
3000 South Croatan Highway
Nags Head, NC 27959
Salem YMCA Family Center
2029 Salem Rd
Virginia Beach, VA 23456
Suffolk Family YMCA
2769 Godwin Boulevard
Suffolk, VA 23434
Taylor Bend Family YMCA
4626 Taylor Road
Chesapeake, VA 23321
The Y on Granby
2901 Granby St.
Norfolk, VA 23504
Other Locations
Priority Honda Hampton
4115 W Mercury Blvd
Hampton, VA 23666
Priority Honda Chesapeake
621 N. Battlefield Blvd.
Chesapeake, VA 23320
Hall Honda Virginia Beach
3516 Virginia Beach Blvd
Virginia Beach, VA 23452
Checkered Flag Honda
6541 E Virginia Beach Blvd
Norfolk, VA 23502
Casey Honda
12943 Jefferson Ave
Newport News, VA 23601
Hall Honda Elizabeth City
105 Tanglewood Pkwy
Elizabeth City, NC 27909
Williamsburg Honda
7101 Richmond Rd
Williamsburg, VA 23188
1st Advantage Federal Credit Union Branches
Grafton Branch 
6035 G. Wash. Mem. Hwy.
Grafton, VA 23692
NWS Branch
200 Main Rd., Building 1822
Yorktown, VA 23693
Coliseum Central Branch
2014 Coliseum Dr.
Hampton, VA 23666
Denbigh Branch
12891 Jefferson Ave.
Newport News, VA 23608
Joint Base Langley-Eustis Branch
1317 Patton Ave.
Fort Eustis, VA 23604
Gloucester Branch
6511 G. Wash. Mem. Hwy.
Gloucester, VA 23061
Hidenwood Branch
12490 Warwick Blvd., Suite B
Newport News, VA 23606
Kiln Creek Branch
110 Cybernetics Way
Yorktown, VA 23693
Mercury Branch
5003 W. Mercury Blvd.
Hampton, VA 23605
New Town Branch
4800 Courthouse St.
Williamsburg, VA 23188
Sentara Williamsburg Reg. Med. Ctr. Branch
400 Sentara Cir., Suite 102
Williamsburg, VA 23188
Williamsburg Commons Branch
224 Commons Way
Williamsburg, VA 23185