November 15, 2021 – An article in the Virginia Pilot today highlights a generous offering by Meredith and Brother Rutter to the Chrysler Museum of Art in Norfolk, VA. The 8-piece gift from the Rutters' private collection was recently announced by the museum as the Chrysler looks to broaden the diversity of artists the feature. The Rutter Family believes in offering the public an opportunity to see works created by black artists and women and this carefully curated donation reflects that. Three of these pieces will be included in a new exhibition at the Chrysler, "Building a Legacy: Chrysler Collects for the Future." The collection will include artists whose work is often left out of more traditional exhibits, including Glenn Ligon and Math Bass.
The Rutter Family believes making art and culture attainable to everyone in the community will inspire a new generation of creatives to explore their talents and tell their stories. They created the Rutter Family Art Foundation to make that mission a reality for the local community in Hampton Roads, VA. Meredith & Brother hope to help museum-goers experience art through the eyes of creators who come from similar walks of life as themselves. They strive to introduce less widely known, yet exceedingly talented artists to our local audience.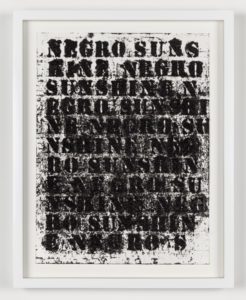 "The art world has recognized the need for greater cultural diversity. Collections should speak to everyone, teaching lessons about the past and sparking conversations about the future. We are thrilled to be a part of the Chrysler Museum's efforts to broaden the exposure to some very talented artists."- Brother Rutter, Managing Partner at  Mills LLP
Brother and Meredith Rutter created the Rutter Family Art Foundation to help the local, community art programs. The mission to make the art world more inclusive is at the core of that organization. Their gift was carefully chosen to include pieces by transformative artists like Glenn Ligon, McArthur Binion, Math Bass, Hank Willis Thomas, Matthew Brandt, Alex Prager, and Brian Bress. These artists use their chosen mediums to convey ideas about culture and share stories about the past through contemporary art. Artists like Hank Willis Thomas use art to erase the lines of traditional thought and open the door to new dialogues about how the world sees people of color. Another artist whose work is included in the gift, McArthur Binion, uses personal memorabilia to tell his own story. Binion started his career in the 1970s but like many artists of color, his work was largely ignored. After a lifetime of creating, it was only recently the art world began to recognize his talents. His paintings, he says, represent the "historical discord" he contributed to.
About the Chrysler Museum of Art – Since 1933, the museum has brought great works of art to downtown Norfolk thanks to generous donations and trustee support. The Chrysler's mission statement: The Chrysler Museum exists to enrich and transform lives. We bring art and people together through experiences that delight, inform, and inspire.
For more information contact: