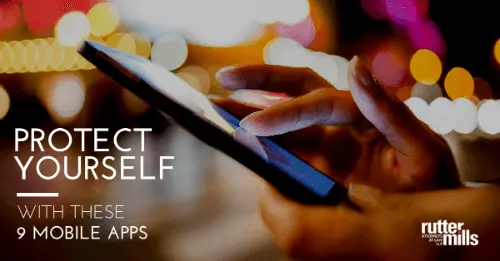 "I wonder if she got home safely."
"I wonder if I've waited long enough to drive after that drink."
"I wonder what I should do now that I've been in a car accident."
Have you ever found yourself pondering these situations? If so, there's an app for that – all of that. We've created this list of nine apps to help you and your loved ones prevent emergencies and stay safe, even if you are walking to your car. Check them out and see if you feel any are right for you!
Personal Safety Apps
Circle of 6 -This free app is designed to help users avoid potentially dangerous situations. The app allows users to connect the phone numbers of up to six close friends or family members. In uncomfortable situations, users can safely and discreetly send a mass message for help. Tapping the phone icon will automatically send your circle a pre-programmed SMS alert message with your exact location. Additionally, you can use this app to alert your friends to call you and interrupt an uncomfortable situation. For more urgent emergencies, users can call 911 from within the app. This app has won multiple safety awards, including the 2011 White House and Department of Health and Human Services "Apps Against Abuse" Technology Challenge. Free from Apple and Android.
On-Watch On Campus – This personal safety app is specifically for college students. It allows students to alert both friends and authorities immediately in emergencies. The app provides several functions, including calling 911, friends, and campus police. It also provides a "Watch My Back" feature (a timed alert that must be disabled with a passcode) and an "I'm Here" feature (which allows you to notify friends or family that you have arrived at your destination safely). You can call 911 or campus police or use the "I'm Here" feature for free. Other combinations of features cost up to $4.99 per month. Available from Apple and Android.
Watch Over Me – Watch Over Me allows you to program the app to keep track of you for a certain amount of time while you perform a task (like walking home, meeting someone, or attending an event). When you have completed your job safely, you tap a button on the screen to confirm your safety. You can tap a different button to extend the watch session. If you don't verify your safety by the counter hits zero, the app contacts your previously designated friends (via SMS, email, or even Facebook) with your GPS location. Available for free from Apple and Android.
StaySafe – This app includes similar alert and alarm features found in the apps described above. One exciting addition is a two-pin verification system to disarm alarms and alerts to friends. You get one PIN that legitimately cancels alarms and alerts if you use it. The second PIN is a "fake" number that you can use in case someone threatens you and makes you enter a PIN to cancel the alert. The app will appear to turn off, but your emergency contacts will still receive a message. Available from Apple and Android for $6.99.
Car Accident Apps
Consumer Reports Magazine reviewed two apps that could help you if you are ever in a car accident: Help I Crashed My Car (for Android and iPhone) and Car Accident Report (for iPhone). Both apps allow you to pre-load emergency contact info, personal data, and vehicle information, including make, model, and insurance information, so it is ready when needed. Both will allow you to contact 911 quickly and track your location using GPS. They also include complete checklists of what to do and in what order after a crash. Additionally, they feature an accident report screen you can fill out with details about other vehicles and drivers. Here are some defining features of each app.
Car Accident Report – This app integrates with email to let you send photos of the accident scene, plus notes, diagrams, and recorded audio interviews. Available for free from Apple only.
Help I Crashed My Car – Like Car Accident Report, this app allows you to take pictures of the accident scene using your phone's camera. It also includes links to local rental car companies and auto body shops. Available for free from Apple and Android.
Drunk Driving Prevention Apps
ENDUI – This app, available for free on iOS and Android, was developed by the Maryland Motor Vehicle Administration (MVA). Its main feature is a Blood Alcohol Concentration (BAC) estimator, where the number and type of drinks a person has consumed are entered into the app, and an estimated BAC level is provided. It also offers two skills tests to measure reaction time and response function. It includes several other features, such as the ability to create a list of possible designated drivers who can be contacted quickly should you need them. It will also locate the nearest taxi service or public transportation options. It also provides the ability to report an impaired driver by contacting 911 with the push of a button. Available for free from Apple and Android.
Breathometer – Breathometer makes a wireless smartphone breathalyzer attachment to get a more precise idea of your blood alcohol content. Though the attachment costs $79.99 currently, it helps prevent users from wondering if they are over the legal blood alcohol content limit. Available for Apple and Android.
Curb – Curb connects you to professional, fully-insured taxi and for-hire drivers in 60 cities nationwide. With 35,000 vehicles on the network, a driver is always nearby. Available for free from Apple and Android.
What If You Are in Need of Help After an Emergency?
These apps can help prevent emergencies and protect your safety, but what would you do if an emergency did occur? For example, what would you do if you were injured in a car accident? Of course, the first thing to do would be to ensure you and all parties involved seek medical attention if needed. After that, if you feel like you were injured by no fault of your own, be sure to call us at Rutter Mills. Your lawyer matters to a judge and jury. Rutter Mills is a serious personal injury law firm with the reputation to achieve your desired outcome. Rutter Mills serves Virginia Beach, Norfolk, Newport News, all cities, and surrounding areas in Hampton Roads, plus Roanoke and Southwestern Virginia. We are available 24 hours a day, so don't hesitate to call us if you are ever in need of help.
Hampton Roads Office: 757-622-5000
Roanoke & Southwestern Virginia: 540-982-3524